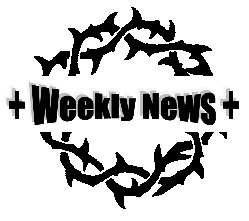 PLEASE PRAY for our new Vicar-designate, Rev'd. John Dracup as he and his family prepare to join us in the Parish of Christ the King in September. Pray for prayers answered for a short interregnum and for the continued service and inspiration of Peter, John, Dennis and Judy.
READ THE GOOD NEWS – John 15. 1-8
No branch can produce fruit by itself. Remain close to the Lord and He will help us to be the best we can be, in His name.
PRAYER AND WORSHIP IN THE COMING WEEK
Monday 7th May
No Morning Prayer, Christ Church – Public Holiday
Tuesday 8th May
9.30am Morning Prayer, St Mary's
Wednesday 9th May
9.00am BCP Holy Communion, St Bart's
10.00am Meltham Churches Together Prayers for the Community, St Bart's
Thursday 10th May
7.00pm Ascension Day communion, St James' – led by the Area Dean, Rev'd. Mark Zammit, Vicar of Almondbury with Farnley Tyas.
The vital Christian festival that isn't a Sunday!
NEXT SUNDAY 13th May:
9.30am Holy Communion, St Bart's.
5.00pm 5 Alive, St James'.
11.15am Holy Communion, St Mary's
11.15am Holy Communion, Christ Church
Other dates for your diary
Friday 4th May
10am to 12 St James', Community Card Group
10.30am -12 St Bart's, Coffee and Chat
Saturday 12th May
2-4pm Christ Church Afternoon Tea.
ADVANCE WARNING
Meltham Churches Together
Pentecost Celebration service on May 20th at 4pm at St James'.