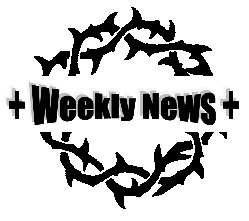 PLEASE PRAY with thanks for new life. As we see new life in our fields and gardens; as we read of new life in the news – especially HRH Prince Louis – pray that we can all bring new hope and life to those around us this week.
READ THE GOOD NEWS – John 15. 1-8
No branch can produce fruit by itself. Remain close to the Lord and He will help us to be the best we can be, in His name.
PRAYER AND WORSHIP IN THE COMING WEEK:
Monday 30th April
9.30am Morning Prayer, Christ Church
Tuesday 1st May
9.30am Morning Prayer, St Mary's
Wednesday 2nd May
9.00am BCP Holy Communion, St Bart's
10.00am Meltham Churches Together Prayers for the Community, St Bart's
NEXT SUNDAY 6th May –
9.30am Holy Communion, St Bart's.
9.30am Holy Communion, St James'.
11.15am Holy Communion, St Mary's
11.15am Holy Communion, Christ Church
Other dates for your diary
Wednesday 2nd May
7.30pm St James' Growth and Development evening. Everyone Welcome
Friday 4th May
10am to 12 St James', Community Card Group
10.30am -12 St Bart's, Coffee and Chat
Saturday 5th May
09.30am to 12 Church Hall St Bart's coffee morning
Sunday 6th May
1.30pm-4pm Church Hall, Registration of Scarecrows