On Sunday 26th August, a concert featuring Michael Frith and other young singers will be held in the #Meltham Church Hall – 7pm.  The concert will be an evening of theatre entertainment – show tunes old and new.  Please support Michael in his efforts to raise money for his scholarship at ARTSED in London.
Tickets are only £5 – Email: rahanafk@hotmail.com Mobile: 07792 055420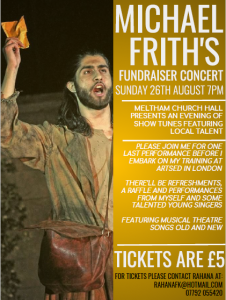 About Michael:
Hello, my name's Michael Frith; 19 year old Huddersfield boy and actor in training. Earlier this year, I was offered a scholarship to train in musical theatre at ArtsEd (Arts Educational Schools, London). ArtsEd is a prestigious and renowned drama school, known for their success in pushing new talent out into the theatre industry. Lord Andrew Lloyd Webber is the president of the school and among their alumni are the likes of Julie Andrews and Bonnie Langford. There are currently twelve ArtsEd alumni in the cast of Les Miserables on the West End, including leading man; Dean Chisnall, starring as Jean Valjean.
They are very selective about their potential students at ArtsEd and very few applicants are lucky enough to get in, so I have been extremely fortunate to receive this opportunity.
This school will increase my chances of succeeding in theatre tremendously and would help me to achieve my greatest aspiration. In spite of my scholarship, I still need further help to be able to pay for rent and other living costs whilst I'm in training, so that is why I am putting on a concert at the Meltham Church Hall (Greens End Rd) to raise funds. It will be a night of theatre entertainment, show tunes old, and new.
A little bit more about me; I have been training in musical theatre, full time for the past three years. On top of that, I've been taking part in amateur musical productions, playing roles such as Jesus in 'Jesus Christ Superstar' at the Theatre Royal, Wakefield and Jean Valjean in 'Les Miserables' at the Leeds Carriageworks theatre and Batley Jo Cox theatre (pictured above).