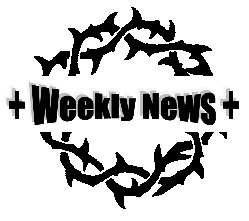 PLEASE PRAY for all those who have lost, suffered and been affected by acts of War, recent and long ago. Remember those who have sacrificed so we may live, and let us honour them with how we live our lives today.
READ THE GOOD NEWS – Mark 1.14-20
Let us be willing, as disciples of Jesus, to give up everything and do what it takes to be a follower of Jesus. "The time has come" he said. "The Kingdom of God has come near. Repent and believe the good news!"
PRAYER AND WORSHIP IN THE COMING WEEK
Monday 12th November
9.30am – Morning Prayer, Christ Church
Tuesday 13th November
9.30am – Morning Prayer, St Mary's
Wednesday 14th November
9.00am – BCP Holy Communion, St Bartholomew's
10.00am – Meltham Churches Together Prayers for the Community, St Bartholomew's
NEXT SUNDAY 18th NOVEMBER
St Bartholomew's – Holy Communion, 9.30am
St James' – Service of the Word, 9.30am
St Mary's – Holy Communion, 11.15am
Christ Church – Holy Communion, 11.15am
OTHER INSERTS FOR YOUR DIARY
Friday 16th November
The Unknown Soldier – to commemorate the Centenary of the Armistice, St Bartholomew's, 8pm (doors open from 7pm).
Tickets £10 available from Pam – 07761 393502 or The Flower Box.
Reverse Advent Calendar
Each day during December you add an item to a box and on Christmas Eve donate the contents to a food bank.
St Mary's are joining in on this scheme and would like to invite everyone to join in too. For more information please speak to Liz Pearson or visit www.muminthemadhouse.com
Sunday 9th December
National Candle Lighting – Bereaved Parents Service at St Mary's, Wilshaw, 6.30pm.
Please invite anyone who has lost a child. For more information, contact Jacqueline – 01484 663867
Please send all weekly news entries to Amelia at parishofchristtheking@gmail.com