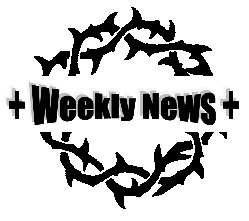 PLEASE PRAY that as the excitement of Christmas and New Year is now behind us, and the 'January blues' begin to set in, that we would
continue to keep Jesus as our daily focus and that the passion we have for Him stays alive throughout the year.
READ THE GOOD NEWS – Matthew 2:1-12 as the Magi followed the star to find Jesus, endured the long journey and challenges, bringing Him gifts, let us too do all it takes to follow Jesus with all our hearts.
PRAYER AND WORSHIP IN THE COMING WEEK
Monday 7th January
9.30am – Morning Prayer, Christ Church
Tuesday 8th January
9.30am – Morning Prayer, St Mary's
Wednesday 9th January
9.00am – BCP Holy Communion, St Bartholomew's
10.00am – Meltham Churches Together Prayers for the Community, St Bartholomew's
NEXT SUNDAY 13thJANUARY
St Bartholomew's, 9.00am – Holy Communion
Meltham Churches Together Covenant Service, 10.30am – Methodist Church
St James' 4.30pm – 5 Alive
Please note: The Covenant service is replacing our regular worship in other congregations on this occasion. We would like to encourage you to
attend and mark the Week of Prayer for Christian Unity and rededicate ourselves as followers of Christ for the coming year.
OTHER INSERTS FOR YOUR DIARY:
Saturday 12th January – Winter Warmer
Come and join us for Pies, Peas & Pudding followed by Tea & Coffee at Christ Church, Helme, 12.00 – 2.00pm.
Tickets £8 per person, are available from Janet – 01484 851424 or Irene – 01484 664163
Monday 21st January – Meltham Churches Together Meeting
7.30pm at Meltham Methodist Church
"For I know the plans I have for you," declares the LORD, "plans to prosper you and not to harm you, plans to give you hope and a future." – Jeremiah 29:11
Please send all weekly news entries to Amelia at parishofchristtheking@gmail.com