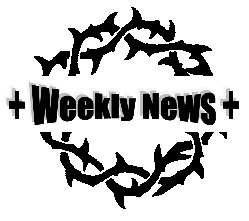 PLEASE PRAY for opportunity to share Jesus with others. Pray for chance conversations and meetings to take place. To be able to share the gift
of life that we know and live with others. Jesus has blessed us with His joy, peace and love, let us be inspired to share that with other people, and not keep it to ourselves.
READ THE GOOD NEWS – Luke 5:1-7 – Do you every feel like you're waiting is never ending, prayer is being unanswered or your efforts seem tiresome? Is God telling you to cast your nets to the other side and to trust Him?
PRAYER AND WORSHIP IN THE COMING WEEK
Monday 11th February
9.30am – Morning Prayer, Christ Church
Tuesday 12th February
9.30am – Morning Prayer, St Mary's
Wednesday 13th February
9.00am – BCP Holy Communion, St Bartholomew's
10.00am – Meltham Churches Together Prayers for the Community, St Bartholomew's
NEXT SUNDAY 17TH FEBRUARY
St Bartholomew's, 9.30am – Holy Communion
St James', 9.30am – Service of the Word
Christ Church, 11.15am – Holy Communion
St Mary's, 11.15am – Service of the Word
OTHER INSERTS FOR YOUR DIARY:
Monday 11th February – "Journeys" – Our weekly course continues, this week discussing "Does this faith thing work in real life?"
7.00pm at St James Church, Meltham Mills. For more information please speak to Rev John Dracup.
Wednesday 13th February – St Bartholomew's DCC Meeting at the church, 7.30pm
Wednesday 20th February – Church Hall AGM, 7.30pm. For the Church Hall Committee. Nomination forms can be obtained by ringing 07860636931 and must be returned by Wednesday 13th February.
Please send all weekly news entries to Amelia at parishofchristtheking@gmail.com