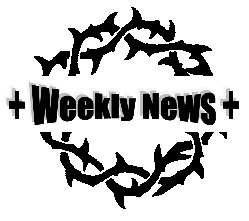 PLEASE PRAY for the bereaved, in our Parish and around the world – that they will know your peace and the sure and certain knowledge of everlasting life in your kingdom.
READ THE GOOD NEWS
John 10, 22-30
No-one can snatch us from the Father's hand if we suspend our faith in ourselves and put our trust in the Lord.
PRAYER AND WORSHIP IN THE COMING WEEK
Monday 6th May
9.30am Morning Prayer, Christ Church
Tuesday 7th May
9.30am Morning Prayer, St Mary's
Wednesday 8th May
09.00am BCP Holy Communion, St Bart's
10.00am Meltham Churches Together Prayers for the Community, St Bart's
1.30pm Songs of Praise at Greenacres.
NEXT SUNDAY 12th May
09.30am St Bart's, Holy Communion
09.30am St James', Holy Communion
11.15am Christ Church, Service of the Word
11.15am St Mary's, Holy Communion
5.00pm St James', FIVE ALIVE
OTHER DATES FOR YOUR DIARY
Monday 6th May – Scarecrow Festival
Refreshments in Church Hall – 10am to 2pm
Visit the St Bart's Bell Tower – 10am to 2pm (over 6's please and all children accompanied by an adult)
Thursday 9th May – Fashion Show
7pm for 7.30pm start in Church Hall
Chainreaxtion fashion show
Raising money for Open Arms, Malawi – providing orphans with loving homes. Tickets from Dimps.
Friday 10th May
09.00am–3.00pm St James' Operation Christmas Child working group
10.00am-12 noon St James', Community Card Group
10.30am-12 noon St Bart's, Coffee and Chat.
Saturday 11th May
10.00am-4.00pm Bible in a Day event at St John the Baptist, Coley Road, Hipperholme. Book via Carol at the Diocese on 0113 353 0281
Please send items for the weekly news to Ruth on 07974 943443 or ruthmurraywebster@gmail.com