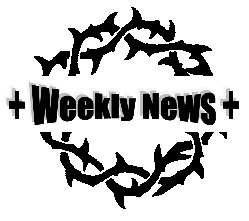 PLEASE PRAY for the world and our responsibility to be good stewards for God's creation. Help us to do what we can to safeguard the natural world for the generations that follow. Help us to be sure that the end will be peace in God's kingdom.
READ THE GOOD NEWS – John 10, 22-­30
Amidst all the other voices that evoke fear, make demands, or give advice, the voice of the good shepherd is a voice of promise -­-­ a voice that calls us by name and claims us as God's own.
PRAYER AND WORSHIP IN THE COMING WEEK
Monday 13th May
9.30am Morning Prayer, Christ Church
Tuesday 14th May
9.30am Morning Prayer, St Mary's
Wednesday 15th May
09.00am BCP Holy Communion, St Bart's
10.00am Meltham Churches Together Prayers for the Community, St Bart's
NEXT SUNDAY 19th May
09.30am St Bart's, Holy Communion
09.30am St James', Service of the Word
11.15am Christ Church, Holy Communion
11.15am St Mary's, Service of the Word
OTHER DATES FOR YOUR DIARY
Friday 17th May
09.00am–3.00pm St James' Operation Christmas Child working group
10.00am-­12 noon St James', Community Card Group
10.30am-­12 noon St Bart's, Coffee and Chat.
GIFT AID IT!
A meaningful amount of our income as a Parish (£13,000 in 2018) comes from the government as gift aid on our giving. If you are a UK tax payer please make sure your generosity is matched by the treasury by setting up a standing order or using the giving envelopes, and letting your treasurer know you are happy for gift aid to be reclaimed. It's equivalent to a lot of coffee mornings for a lot less work!
Please send items for the weekly news to Ruth on 07974 943443 or ruthmurraywebster@gmail.com