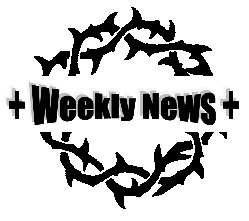 PLEASE PRAY for leaders everywhere. Those who lead countries, companies, charities and churches. Help them to see the value of servant leadership putting the good of those they lead before their personal ambitions.
READ THE GOOD NEWS – Luke 12, 13-21
A taxi driver reminded me of this passage two days ago so a coincidence (or God-incidence) it's the gospel reading for this week. An abundance of possessions doesn't define us, or show God's blessings on us. We are blessed when we do not store up things for ourselves on earth.
PRAYER AND WORSHIP IN THE COMING WEEK
Monday 29th July
9.30am Morning Prayer, Christ Church
Tuesday 30th July
9.30am Morning Prayer, St Mary's
Wednesday 31st July
9.30am Holy Communion BCP, St Bart's
10.00am Meltham Churches Together Prayers for the Community, St Bart's
NEXT SUNDAY 4th August
09.30am St Bart's, Holy Communion
09.30am St James', Family Service of the Word
11.15am Christ Church, Holy Communion
11.15am St Mary's, Service of the Word
OTHER DATES FOR YOUR DIARY
Tuesday 30th July
2.00pm – Women's Fellowship service at St Bart's followed by a Beetle Drive and natter.
Friday 2nd August
09.00am–3.00pm St James' Operation Christmas Child working group (with soup lunch)
10.00am-12 noon St James', Community Card Group
10.30am-12 noon St Bart's, Coffee and Chat.
Saturday 3rd August
7.30pm Yorkshire Day Celebration in the Parish Hall
An evening of music, joy and laughter – and a 2 course supper for £12. Tickets from the Flower Box, Café 33 or St Barts church members.