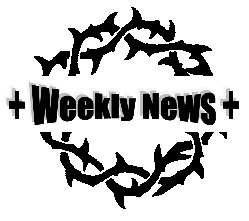 PLEASE PRAY for everyone on holidays whether 'staycations' at home or away. Help us to cherish the time we have for leisure and to reconnect with
each other and the wonderful natural world that you have put into our temporary care. We thank you for the wonderful countryside that surrounds us in Meltham – help us to wonder at it and look after it for future generations.
READ THE GOOD NEWS – Luke 12, 13-21
An abundance of possessions doesn't define us, or show God's blessings on us. We are blessed when we do not store up things for ourselves on earth.
PRAYER AND WORSHIP IN THE COMING WEEK
Monday 5th August
9.30am Morning Prayer, Christ Church
Tuesday 6th August
9.30am Morning Prayer, St Mary's
Wednesday 7th August
9.00am Holy Communion BCP, St Bart's
10.00am Meltham Churches Together Prayers for the Community, St Bart's
NEXT SUNDAY 11th August
09.30am St Bart's, Holy Communion
09.30am St James', Holy Communion
11.15am Christ Church, Holy Communion
11.15am St Mary's, Service of the Word
OTHER DATES FOR YOUR DIARY
Friday 9th August
09.00am–3.00pm St James' Operation Christmas Child working group (with soup lunch)
10.00am-12 noon St James', Community Card Group
10.30am-12 noon St Bart's, Coffee and Chat.
If you can spare any items of food or toiletries for the foodbank then please drop off at Crossroads or one of the churches: we may not know who they are, but families in Meltham need our help.
Work Opportunity General administrative assistance is required by the Parish of Meltham Christ the King.
A minimum of 6 hours a week which can be flexible. Anyone interested, please email name, contact details & any relevant experience to the
vicar: revjohndracup@gmail.com