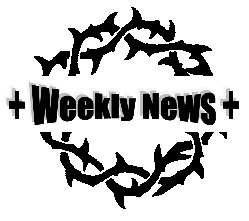 PLEASE PRAY for all those who have moved away from home at this time – to university, or to new jobs. Help them to find new roots, new friends
and confidence in their new place knowing they are loved back at home. Help all those with a duty of care for young people at university to be able to reach out to those in need.
READ THE GOOD NEWS – Luke 16, 1-13 – Help us to appreciate and use money wisely to further our mission as your people here in Meltham, in the places where we work and play and to help those in need in other places.
PRAYER AND WORSHIP IN THE COMING WEEK
Monday 23rd September
9.30am Morning Prayer, Christ Church
Tuesday 24th September
9.30am Morning Prayer, St Mary's
1.30pm Holy Communion, Greenacres
Wednesday 25th September
9.00am Holy Communion BCP, St Bart's
10.00am Meltham Churches Together Prayers for the Community, St Bart's
Thursday 26th September
2.00pm Holy Communion, Helme Hall
NEXT SUNDAY 29th September
11:15am – JOINT PARISH COMMUNION AT ST MARY'S WILSHAW
7:30pm – Harvest Home at the Waggon & Horses. Harvest sing-along and thanksgiving. Bring things you've grown or made and there will be a silent auction to raise money for local charities.
OTHER DATES FOR YOUR DIARY
Tuesday 24th September
7.30pm St Bartholomew's Women's Fellowship in church when the speaker will be Alison Bray who will give a talk and film on "Another Royal Event"
Friday 27th September
09.00am–3.00pm St James' Operation Christmas Child working group (with soup lunch)
10.00am-12 noon St James', Community Card Group
10.30am-12 noon St Bart's, Coffee and Chat.