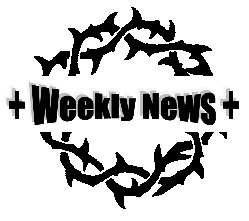 PLEASE PRAY for all those who are struggling with their health – in body or mind. Help us to help them, through our practical care and our prayers.
READ THE GOOD NEWS – Luke 15, 1-10 – Thank God for every person that realises the errors of their earthly ways and dedicates their life and
work to Jesus. Thank you that we are given the opportunity, through God's grace, to be forgiven and turn to Christ.
PRAYER AND WORSHIP IN THE COMING WEEK
Monday 15th September
9.30am Morning Prayer, Christ Church
Tuesday 16th September
9.30am Morning Prayer, St Mary's
Wednesday 17th September
10.00am Meltham Churches Together Prayers for the Community, St Bart's
11.00am Holy Communion BCP, St Bart's followed by lunch.
NEXT SUNDAY 22nd September
09.30am St Bart's, Holy Communion
09.30am St James' Holy Communion
11.15am Christ Church, Service of the Word
11.15am St Mary's, Holy Communion
OTHER DATES FOR YOUR DIARY
Friday 20th September
09.00am–3.00pm St James' Operation Christmas Child working group (with soup lunch)
10.00am-12 noon St James', Community Card Group
10.30am-12 noon St Bart's, Coffee and Chat.
Tuesday 24th September
St Bartholomew's Women's Fellowship at 7.30pm in church when the speaker will be Alison Bray who will give a talk and film on "Another Royal Event" (Please note change of time).
Sunday 29th September – Harvest Home at the Waggon & Horses
Bring things you've grown or made and there will be a silent auction to raise money for local charities.