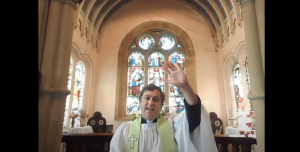 Despite our best efforts, we were not able to continue the live broadcast using the previous link due to issues with the 4G mobile signal. We have however managed to capture the service and you can now view it this updated link:
https://www.youtube.com/watch?v=J8rnPulPay8
Due to further technical issues, we had to improvise but then ultimately abandon the inclusion of the service words for you to join in. There may be the odd pause along the way – the video quality is not quite there, but the audio should be fine – please stick with it!
Apologies for the inconvenience – hopefully the phone signal issues that have been happening in and around Meltham for the past week or so will be resolved for next time!