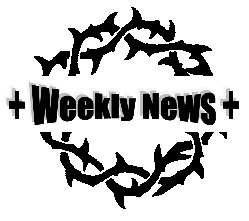 PLEASE PRAY for each other. Please take this opportunity to ask the person next to you 'what do you need prayer for?' and commit to praying for one another over the next week and see how God moves and brings us closer together.
READ THE GOOD NEWS – Mark 10.35-45
We should all strive and wish to be seen by Jesus as 'great', but not by doing tasks that highlight us. Rather by putting others first, and ourselves last. By serving others, we serve Him.
PRAYER AND WORSHIP IN THE COMING WEEK
Tuesday 23rd October
9.30am – Morning Prayer, St Mary's
Wednesday 24th October
9.00am – BCP Holy Communion, St Bartholomew's
10.00am – Meltham Churches Together Prayers for the Community, St Bartholomew's
NEXT SUNDAY 28th OCTOBER
St Bartholomew's, 9.30am – Holy Communion
St James', 9.30am – Holy Communion
St Mary's, 11.15am – Morning Worship / Meditation
Christ Church, 11.15am – Holy Communion
Please note: St James' Morning Worship & Reflection service this Sunday, starts at 9.30am, not 5.00pm as the previous week mistakenly stated.
OTHER DATES FOR YOUR DIARY
Saturday 27th October
RESET – New Wine Women's Day Conference, 9.30am – 4.30pm at Huddersfield Christian Fellowship. £25.00, lunch included. Tickets are available on the website by entering 'New Wine Women's Day – Reset' into your search engine.
Monday 12th November
Meltham Mustard Seed Curry Evening, 7.00pm – The Pink Elephant. £18.00 per person, please speak to your church representative for further details.
Please send all weekly news entries to Amelia at parishofchristtheking@gmail.com