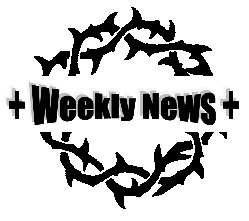 PLEASE PRAY for a personal closeness to God. At a time when we, as individuals and as a Nation, need Him to provide, protect and bring us back to glory, let us strive to live closely with Him.
READ THE GOOD NEWS – John 2.1-11
'What Jesus did here in Cana of Galilee was the first of the signs through which He revealed His glory; and His disciples believed in Him.' As this was the first of many miracles Jesus performed, it is similar to the first miracle He performs in our own lives – that moment of salvation where we believe in Him, accepting His love, forgiveness and grace. But although that is the first, there is a continuous flow of
miracles that Jesus has to offer us throughout or lives and daily walk with Him.
PRAYER AND WORSHIP IN THE COMING WEEK
Monday 21st January
9.30am – Morning Prayer, Christ Church
Tuesday 22nd January
9.30am – Morning Prayer, St Mary's
Wednesday 23rd January
9.00am – BCP Holy Communion, St Bartholomew's
10.00am – Meltham Churches Together Prayers for the Community, St Bartholomew's
NEXT SUNDAY 27TH JANUARY
St Bartholomew's, 9.30am – Holy Communion
St James', 9.30am – Holy Communion
Christ Church, 11.15am – Holy Communion
St Mary's, 11.15am – Service of the Word
OTHER INSERTS FOR YOUR DIARY:
Wednesday 23rd January – PCC Meeting – 7.30pm at St Bartholomew's Church
Monday 28th January – "Journeys" – A five week course which helps us to find out more about Jesus, to explore and deepen our own personal faith and learn how to put that faith it into words. 7.00 – 8.30pm each Monday, at St James' Church, Meltham Mills.
For more information please speak to Rev John Dracup.

Saturday 2nd February – Leading a Nurture Group – We'll be looking at the how-to's on leading a nurture group, including how to plan, how to
get going and dealing with the challenges of leadership. The first session is to be held at St James' Church, 10.00am – 4.00pm.
For more information please speak to Mandy Aspland or visit www.learning.leeds.anglican.org/events
Please send all weekly news entries to Amelia at parishofchristtheking@gmail.com