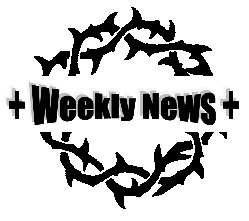 PLEASE PRAY for all those whose lives have been impacted by extreme weather conditions – hurricane, flood, drought and fire. Lord, you have
given us free will and we often fail to be good stewards of our world. Help us to protect our precious eco-systems and the people affected when things go wrong. Please pray for our Township that it will be a safe and special place to live and work to God's praise and glory.
READ THE GOOD NEWS – Luke 14, 25-35 – We are challenged not to start the job and not finish it – to have the foundations of faith in place but never to build the house. We are challenged to pick up our cross and really follow Jesus.
PRAYER AND WORSHIP IN THE COMING WEEK
Monday 9th September
9.30am Morning Prayer, Christ Church
Tuesday 10th September
9.30am Morning Prayer, St Mary's
1.30pm Songs of Praise at Greenacres
Wednesday 11th September
9.00am Holy Communion BCP, St Bart's
10.00am Meltham Churches Together Prayers for the Community, St Bart's
10.30am St Barts, Pastoral Group meeting
NEXT SUNDAY 15th September
09.30am St Bart's, Holy Communion
09.30am St James' Service of the Word
11.15am Christ Church, Holy Communion
11.15am St Mary's, Service of the Word
OTHER DATES FOR YOUR DIARY
Friday 13th September
09.00am–3.00pm St James' Operation Christmas Child working group (with soup lunch)
10.00am-12 noon St James', Community Card Group
10.30am-12 noon St Bart's, Coffee and Chat.
Saturday 14th September
2.30pm to 4pm
CHRISTENING PARTY
Hosted at St James' for all those baptised in the Parish in the last three years (and their families!)