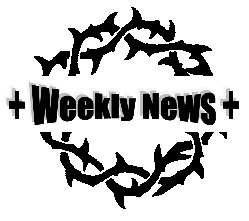 PLEASE PRAY that we have the strength and confidence to accept what happens, and to believe that in every adversity is an opportunity for us to
come closer to you.
READ THE GOOD NEWS – Luke 16, 19-end – Thank you that you have given us all the guidance we need to follow you through your Word. Help us to understand and follow that guidance.
PRAYER AND WORSHIP IN THE COMING WEEK
Monday 30th September
9.30am Morning Prayer, Christ Church
Tuesday 1st October
9.30am Morning Prayer, St Mary's
Wednesday 2nd October
9.00am Holy Communion BCP, St Bart's
10.00am Meltham Churches Together Prayers for the Community, St Bart's
10.30am Holy Communion, Bell House
NEXT SUNDAY 6th October
09.30am St Bart's, Harvest All Age Communion
09.30am St James', ONE FOR ALL – Family Service of the Word and Harvest
11.15am Christ Church, Harvest Festival
11.15am St Mary's, Harvest Festival
OTHER DATES FOR YOUR DIARY
Wednesday 2nd October
10.30am-3.00pm St James' OASIS QUIET DAY
Friday 4th October
09.00am–3.00pm St James' Operation Christmas Child working group (with soup lunch)
10.00am-12 noon St James', Community Card Group
10.30am-12 noon St Bart's, Coffee and Chat.
07.00pm Ladies Speaker and Supper Evening, St James. Vicky Minton on her trip to Palestine.
ADVANCE WARNING
19th October. New Wine Women's Day at Huddersfield Cathedral House. £25 including lunch. 09.15am to 4.30pm
Christine Bleasdale has 10 tickets, first come first served. Christine.bleasdale@ntlworld.com